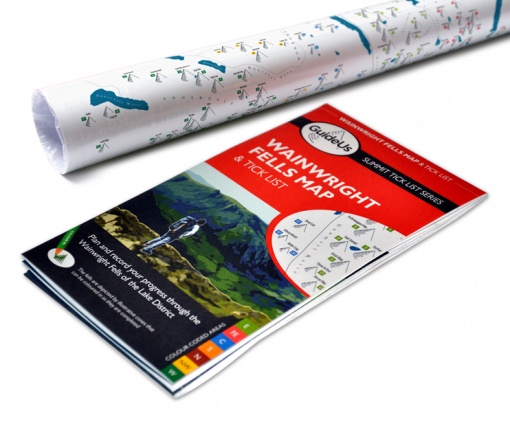 Wainwright Fells Map & Tick List
Plan and record your progress through the Wainwright Fells of the Lake District
from £9.99 + shipping
The small Wainwright fell High Rigg is located at the northern end of Alfred Wainwright's Central Fells, a few miles south east of Keswick. As with many of the smaller Wainwright's, it occupies a relatively isolated position - the reason he gives them separate classification despite their modest high. In the case of a High Rigg walk, a very pleasant short ascent can be made from St John's in the Vale, giving access to this somewhat solitary fell and views of the surrounding giants of neighbouring fell groups.
St John's in the Vale is a green and pleasant glacial valley that is often used by motorists travelling from the North down to Grasmere and Windermere. While many people will have travelled through this beautiful landscape, not many of the major Wainwright hills can be reached directly from the Vale, making it a quieter part of the Lake District to visit. And from the Church in the valley, a Wainwright walk to High Rigg can take less than half an hour, meaning it is a good fell to tick of a Wainwright peaks list when time is limited (or the legs are still aching from a longer Wainwright walk the previous day!).
While not immediately alongside any other Wainwright Fells, the summit view of High Rigg does present an excellent panorama of some of the largest peaks in the Lake District. With Skiddaw and Blencathra in the North and the Helvellyn range to the South, there is plenty to see for the Wainwright walker making the pleasant ramble to the top of High Rigg. Thirlmere can be glimpsed to the South, Great Dodd to the East and on clear days, even the Scafells can be seen at a distance.
Because of its location, Wainwright walkers who want to tick off a number of fells from their Wainwright maps may not find that High Rigg is a particularly practical peak to combine with others. However, Wainwright bagging is far from the only charm of walking in the Lake District, and may people walking High Rigg do so on any of a number of walks that also take in Castlerigg Stone Circle. This extremely impressive prehistoric monument draws thousands of visitors every year, but relatively few will venture further afield to the peace and tranquillity of High Rigg.
For further reading about High Rigg, we would recommend Book Three: The Central Fells, by A. Wainwright, part of the Pictorial Guide to the Lakeland Fells.
Please Note: This is not the entire list of Wainwright Fells in this area, the list below represents the fells we have written about so far. You can view entire Wainwright Fell lists here.