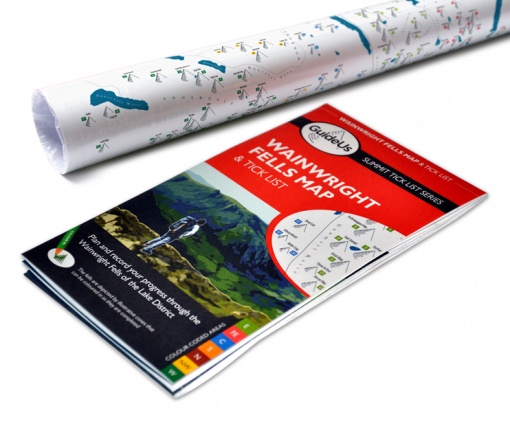 Wainwright Fells Map & Tick List
Plan and record your progress through the Wainwright Fells of the Lake District
from £9.99 + shipping
High Street Information
Wainwright Fell No. 25
Height: 828m (2718ft)
High Street is the largest of the Wainwright Hills in his Far Eastern Fells, located near Haweswater. The fell is named after a Roman road which passed over the summit, the Romans never being a people prepared to let the 25th highest mountain in the Lake District interrupt their passion for straight roads! Being the largest peak in Wainwright's Far Eastern Fells, it is a good place to start if visiting this part of the Lake District for the first time. The proximity of other Wainwrights in the High Street range make it a good location for those intent on completing a number of peaks from their Wainwright maps.
The best ascents of High Street take place from the East, from the direction of Haweswater (Mardale), with great views of Riggindale and across to Kidsty Pike and Rampsgill Head on the other side of the valley. A number of other routes exist including a circular walk from Hartsop, as well as Wainwright walks from Troutbeck, Patterdale and Kentmere. For avid Wainwright baggers, a huge range of walks exist for those wanting to complete fells from Wainwright maps, including a circular trek from Mardale Head to Mardale Ill Bell, High Street, Rampsgill Head and Kidsty Pike.
From the top, Wainwright walkers will have a great view of the Helvellyn range, Skiddaw and across the Eden Valley to the Pennines. The Scafells and Great Gable are also visible as is the southern end of Haweswater. The satellite fells of the High Street range can also be seen, naturally enough, and plans for future walks in the Far Eastern fells can be made while taking a breather at the summit.
Further information about High Street and the surrounding fells can be found in Book Two: The Far Eastern Fells, part of the Pictorial Guide to the Lakeland Fells.