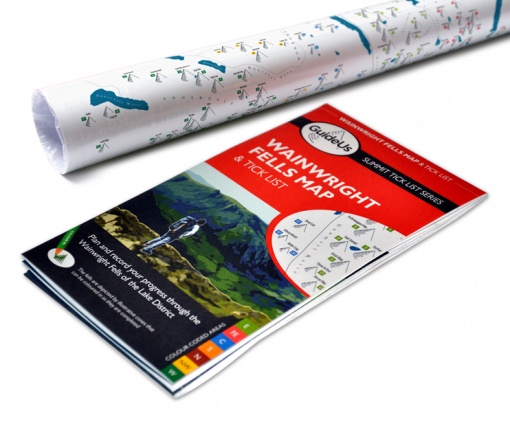 Wainwright Fells Map & Tick List
Plan and record your progress through the Wainwright Fells of the Lake District
from £9.99 + shipping
Kidsty Pike Information
Wainwright Fell No. 46
Height: 780m (2560ft)
Kidsty Pike is a Wainwright Fell that stands to the west of Haweswater, in the Far Eastern fells of the Lake District. From the summit, the southern tip of Haweswater can be seen together with dramatic views of Riggindale, which drains into the Haweswater Reservoir. Both are excellent reasons to complete a Wainwright walk to the top of Kidsty Pike. While to the north and west, the higher local peaks of High Raise and Rampsgill Head obscure much of the view, Kidsty Pike's eastern position gives dramatic views across the Eden Valley to the Pennines.
The direct Wainwright walking route to Kidsty Pike is from the road at Mardale Head, ascending via Riggindale and Kidsty Howes. Commonly when walking Kidsty Pike, two fells can be combined on your Wainwright Hill Maps, starting with High Street on the other side of Riggindale. Keen Wainwright Walkers, with the aid of a good map, can climb The Knott, Rampsgill Head, High Raise and Rest Dodd in addition to Kidsty Pike and High Street, giving the opportunity to tick off up to six Wainwrights from a Wainwright Fells Map in one (rather tiring!) day. Missing out High Street and including Beda Fell, Angletarn Pikes and Brock Crags can also work for eight Wainwrights in a day, completing the Martindale Round which begins at Martindale Old Church.
The acutely angled peak of Kidsty Pike is one of the more recognisable of the Wainwright fells, and is probably seen by most people from the M6 motorway at Shap looking to the west. The summit can be climbed independently and relatively easily from Haweswater, but the number of Wainwright fells close together in the same vicinity make it an excellent point in a series of peaks to complete from your Wainwright Maps.
Further information on Hindscarth is contained in Book Two: The Far Eastern Fells, by A. Wainwright, a volume of the Pictorial Guide to the Lakeland Fells.
Haweswater, Selside Pike and Branstree viewed from the summit of the Kidsty Pike Wainwright Walk. Picture by Matt Warnes.