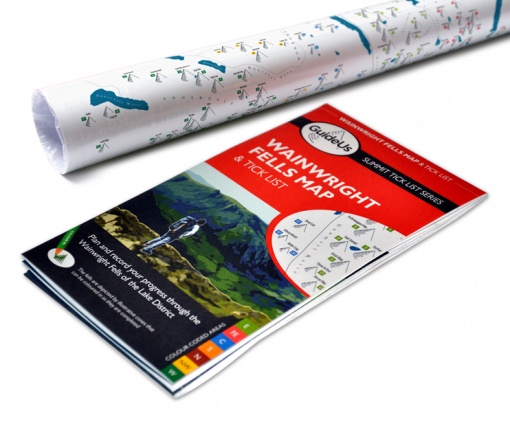 Wainwright Fells Map & Tick List
Plan and record your progress through the Wainwright Fells of the Lake District
from £9.99 + shipping
Castle Crag Information
Wainwright Fell No. 214
Height: 290m (951ft)
Castle Crag is located in the North Western Fells in the Borrowdale area of the Lake District. It is the smallest of all the fells in the Lake District given its own chapter by Alfred Wainwright in his Pictorial Guide to the Lakeland fells. This shouldn't put visitors off however, as it wouldn't have been included if there wasn't something special about it. Wainwright describes Castle Crag as 'ruggedly individual' and 'magnificently independent', and indeed, its impressive, craggy summit is spectacular. Add to that the atmosphere at the top of Castle Crag, which is thought to have once been home to an ancient hill fort - and the lack of height of this Wainwright Fell ceases to be an issue.
Wainwright wasn't the only fan of Castle Crag, and a cave near the summit was the home of an eccentric named Millican Dalton every summer for nearly 30 years until the 40's. Wainwright walkers will probably wish to spend less time of Castle Crag, but will still want to linger a while at the top for great views down Borrowdale to Derwent Water, Great Gable, Skiddaw and the Scafells.
Most Castle Crag walks begin at Rosthwaite or Grange in Borrowdale, while many hikers also take in a picturesque ramble along the river Derwent before heading for the summit. Keen Wainwright walkers wanting to tick off a few fells in one day may want to consider a circular route along the High Spy ridge that begins and finishes at Hawes End. This long distance trek takes in Cat Bells, Maiden Moor, High Spy and Castle Crag, giving the benefit of four completed Wainwright fells in one walk.
Further details on Castle Crag and the other Wainwrights in the area can be looked up in Book Six: The Northwestern Fells, by A. Wainwright, part of the Pictorial Guide to the Lakeland Fells.