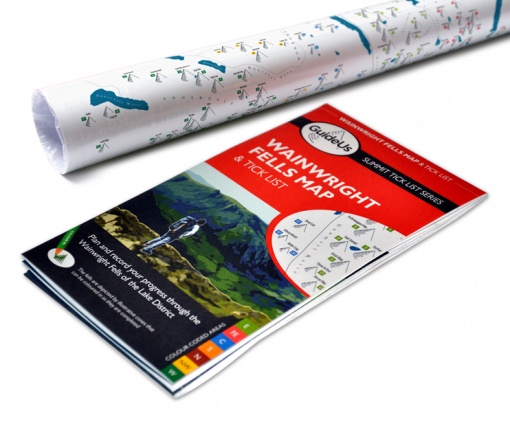 Wainwright Fells Map & Tick List
Plan and record your progress through the Wainwright Fells of the Lake District
from £9.99 + shipping
Sale Fell Information
Wainwright Fell No. 208
Height: 359m (1178ft)
Number 208 out of 214 Wainwright Fells doesn't suggest that Sale Fell would be all that inspiring, but its small size doesn't tell the full story. From a relatively isolated position at the far reaches of Wainwright's North Western fells it offers spectacular views from the summit after a relatively straightforward and modest walk. Its position quite close to Cockermouth makes it easy to reach and a good walk to take in if staying in the town, while it makes an excellent hike to break up a spell in the nearby Pheasant Inn on the shores of Bassenthwaite Lake.
The summit of Sale Fell rewards Wainwright walkers with an uninterrupted, spectacular view of the Skiddaw range, while the Helvellyn group can also be seen in its entirety. To the east Bassenthwaite can be seen while its northern position means on clear days the hills of Southern Scotland and the Solway Firth complete a dramatic panorama. This represents an excellent short Lake District walk, on a good day taking under 2 hours to complete, completing another fell from your Wainwright Maps and getting some wonderful views into the bargain.
Beginning at Wythop Mill is the easiest option to take in the summit of Sale Fell, with a good path that branches out halfway up the fellside to give Wainwright walkers the choice of approaching the summit ridge at its eastern or western ends. Those looking for a longer walk in this region of the Lake District can also use Wythop Mill as a start off point for a circular walk that includes Ling Fell, Broom Fell, Lord's Seat and Barf, before completing Sale Fell, know as the Wythop Round. This gives the opportunity to complete five peaks from a Wainwright Hill Chart in a day while taking in the quiet paths and stunning scenery in this part of the Lakes.
Further details on Sale Fell and the other Wainwrights in the area can be looked up in Book Six: The Northwestern Fells, by A. Wainwright, part of the Pictorial Guide to the Lakeland Fells.