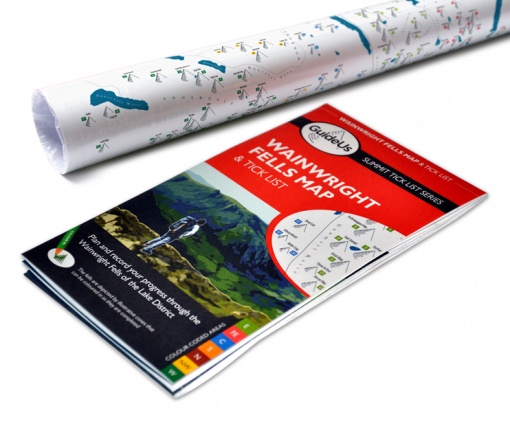 Wainwright Fells Map & Tick List
Plan and record your progress through the Wainwright Fells of the Lake District
from £9.99 + shipping
Rannerdale Knotts Information
Wainwright Fell No. 210
Height: 355m (1165ft)
One of the smallest of the Wainwright's, Rannerdale Knotts is part of the North Western Fells and stands on the shores of Crummock Water. It is an excellent location for Wainwright walkers, as not only is it picturesque in its own right, but it has a number of larger neighbours in its vicinity, meaning it is a good fell to combine with others when completing peaks from Wainwright maps. Perhaps the best option for this endeavour is the Rannerdale Round, which includes Rannerdale Knotts at the beginning or end of a circular route from Cinderdale Common.
The Rannerdale Round also includes four other Wainwright peaks, Grasmoor, Eel Crag, Wandop and Whiteless Pike, and represents a route that can be completed over a long morning or afternoon. This excellent ramble givers Wainwright Walkers great views of the surrounding fells, as well as completing a number of some of the lesser known fells from a Wainwright Tick List. However, given its modest height, a Rannerdale Knotts walk can be completed easily when time is short, following a direct route to the top from Hause Point.
From the summit, given it rises directly from the shores of Crummock Water, perhaps the view of this lake and neighbouring Buttermere is the highlight of the panorama. However, there are also good views of the neighbouring fells, particularly of Great Gable. Mellbreak viewed across Crummock Water is another particularly fine sight that rewards those who complete Rannderdale Knotts walks.
Further details on Rannerdale Knotts walks and the other Wainwrights in the area can be looked up in Book Six: The Northwestern Fells, by A. Wainwright, part of the Pictorial Guide to the Lakeland Fells.
Looking across Crummock Water towards Rannerdale Knotts - Photograph by Stewart Smith Photography