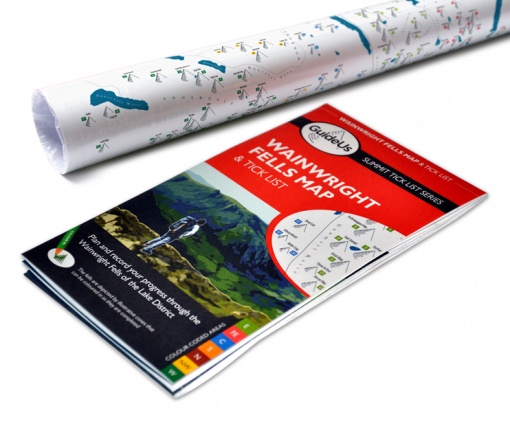 Wainwright Fells Map & Tick List
Plan and record your progress through the Wainwright Fells of the Lake District
from £9.99 + shipping
Robinson Information
Wainwright Fell No. 67
Height: 737m (2417ft)
Robinson is a Wainwright Hill that rises from the northeastern shore of Buttermere, part of a series of fells that flank the southwestern side of the Newlands Valley. Wainwright walks to the summit of Robinson commonly start in the village of Buttermere, offering lovely views of Buttermere, the tip of Crummock Water, the Newlands Valley and the fells on either side of it. Also from the top of Robinson, Wainwright walkers will have splendid views of the Coledale Fells, together with most of the major Lake District fell groups. Inparticular, stunning views of Kirk Fell, Great Gable and Glaramara are available to those who make this rewarding Wainwright walk.
If wishing to complete a number of peaks on a Wainwright Maps, Robinson can be climbed in conjunction with Hindscarth, Dale Head, High Spy, Maiden Moor and Cat Bells, to the south and west of the Newlands Valley. Especially energetic hikers can also combine a Wainwright walk with Alt Crags and Knott Rigs on the other side of the valley, making for a long, but rewarding trip that gives the opportunity to tick off up to eight fells from a Wainwright hill chart.
According to Alfred Wainwright, this fell got its name from a Richard Robinson who purchased land around Buttermere centuries ago. While there is a lack of research to support this tale, it seems a good a reason as any and few would argue with influential Lake District guidebook author.
Robinson and the fells around the Newlands Valley can be researched in more detail in Book Six: The Northwestern Fells, by A. Wainwright, part of the Pictorial Guide to the Lakeland Fells.
The Wainwright Walk to Robinson, as viewed from the Newlands Valley
Picture by Stewart Smith Photography