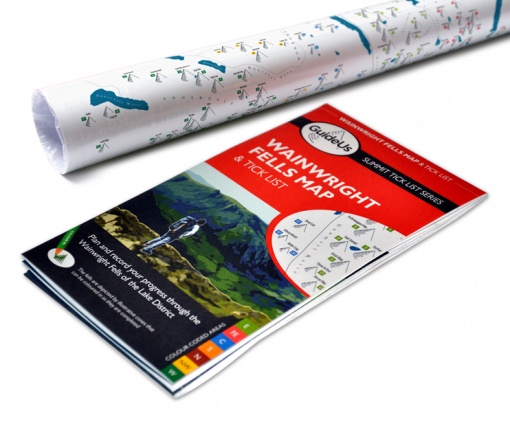 Wainwright Fells Map & Tick List
Plan and record your progress through the Wainwright Fells of the Lake District
from £9.99 + shipping
Hindscarth Information
Wainwright Fell No. 73
Height: 727m (2385ft)
Hindscarth is a mountain in Wainwright's Northwestern Fells, located between Buttermere and the Newlands Valley, and can be included on a Wainwright walk from either of these points. Given the proximity of neighbouring Robinson, Hindscarth is very commonly climbed with that peak, and people serious about completing fells from their Wainwright tick lists can walk the Newlands Round, which also takes in Dale Head, High Spy, Maiden Moor and Catbells.
Most popularly climbed using a route from Newlands Church, the summit of Hindscarth gives excellent views of the Newlands Valley, while most of the major Wainwright fell groups are also visible. One of the most popular Wainwright fells, Skiddaw, looks particularly stunning from the top of Hindscarth. An alternative route to the summit can be made from Buttermere, first climbing Robinson, then Hindscarth before travelling along the ridge that connects it to Dale Head. The ridge forms the heads of Little Dale and the Newlands Valley - giving great views of both.
While the Lake District has for a long time been an inspirational destination for visitors intent on viewing the fantastic scenery of Wainwright country, this part of the region also has a rich industrial heritage. Mines at Hindscarth that exploited rich veins of Lead and Copper opened as far back as 1564, and were at one point requisitioned by Elizabeth the First, such were their importance. Sometimes when completing a Wainwright walk it is easy to forget that the area was not always a visitor attraction and that the fells were an important source of metal and stone for the nation.
Further information on Hindscarth is contained in Book Six: The Northwestern Fells, by A. Wainwright, a volume of the Pictorial Guide to the Lakeland Fells.
Hindscarth together with all of the Wainwright Fells are included on the Wainwright Fells Map - this A1 size wainwright map is a beautiful pictorial overview of The Lake District National Park. All 214 Wainwright fells are clearly marked and included in a corresponding hill information table & tick-list. The Wainwright Fells Map is used to record your progress through this exceptional landscape, at the same time it is functional and informative piece of artwork for the home.
Hindscarth pictured with Robinson, two Wainwright walks often completed together - Picture by Stewart Smith Photography