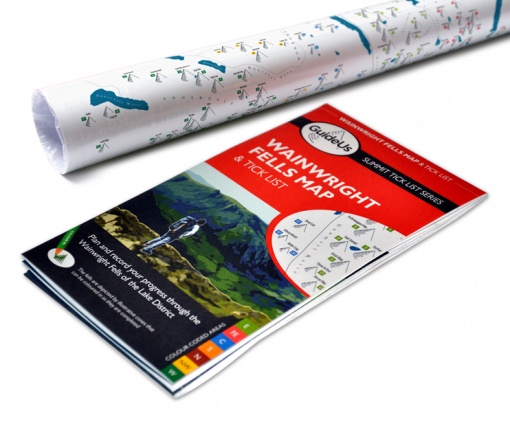 Wainwright Fells Map & Tick List
Plan and record your progress through the Wainwright Fells of the Lake District
from £9.99 + shipping
Crinkle Crags Information
Wainwright Fell No. 17
Height: 858m (2816ft)
Alfred Wainwright describes Crinkle Crags as 'too good to miss', and the five separate summits make this statement quite true. In between these peaks are a series of gullies, the crinkles that give this Wainwright fell its name. Walking Crinkle Crags gives a range of spectacular views including the Langdale Pikes - while on clear days as well as Windermere, the views stretch out over the Irish sea to the Snaefell, to North Wales and Snowdonia, and over to Morecambe Bay. A Wainwright Walk up Crinkle Crags also gives impressive views of imposing Scafell Pike, the highest point in the Lake District and England.
One route for a Wainwright Walk to Crinkle Crags, including just this particular fell is from Eskdale, while those wanting to complete more than one peak on their Wainwright Maps can take in any or all of the surrounding fells, including Cold Pike, Rossett Pike, Pike O'Blisco and Bowfell. Whether combining Wainwright fells or just attempting to see the view from Crinkle Crags alone, the central Lake District position gives excellent panoramas taking in most of the main groups of Lakeland fells.
A good day's walking that visits Crinkle Crags and neighbouring Bowfell begins at the Old Hotel in Great Langdale, walking around the base of Pike O'Blisco and following the ridge that forms Crinkle Crags and on to Bowfell. The Wainwright walk continues around Angle Tarn and and down Rossett Gill back to the starting point. This is a strenuous Wainwright walk in itself, but it can be expanded to visit the summit of Pike O Blisco, either first off doing the round in reverse, or an an option before dropping back down to the Old Hotel before the walk's end.
More details on Crinkle Crags walks can be found in Book Four: The Southern Fells, by A. Wainwright, part of the Pictorial Guide to the Lakeland Fells.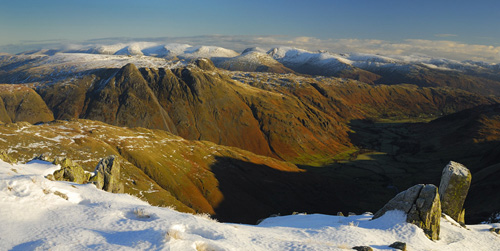 A Wainwright walk to Crinkle Crags gives fantastic views of the Langdale Pikes - Picture by Stewart Smith Photography