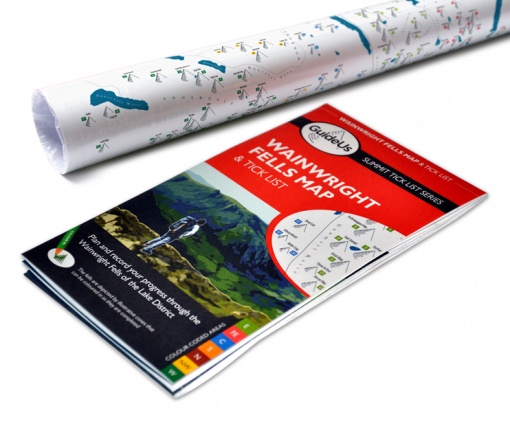 Wainwright Fells Map & Tick List
Plan and record your progress through the Wainwright Fells of the Lake District
from £9.99 + shipping
Great End Information
Wainwright Fell No. 5
Height: 910m (2994ft)
Area: Southern Fells
Great End is part of the chain of mountains in Wainwright's Southern Fells that includes the more famous Scafell Pike. Great End is commonly visited as part of walks that take in the Scafells but it is an interesting Wainwright Walk in its own right. It is a walk that is worth completing on your Wainwright maps when the longer trip to the Pike isn't viable in the time available. The fell is particularly impressive when looking at its steep, rocky north face, which is extremely imposing and a favourite with climbers. Alfred Wainwright described Great End as a magnificent place, and of the area around it as the 'Lakeland of the fellwalker' - which is a good indicator of the magnificent scenery and challenging nature of this Wainwright Walk.
From the summit of Great End, Scafell Pike can be seen a mile away, and the cairns at the top of this Wainwright fell offer unrivalled views down Borrowdale. Skiddaw also forms a prominent part of the view at the end of this Wainwright Walk, together with pleasant views of Derwent Water and the wooded valleys around it.
Most Wainwright Walkers come via Sty Head, something of a crossroads for climbing the southern fells, while access can be gained from Borrowdale, Wasdale Head and Great Langdale via Rossett Gill and Esk Hause. It is perhaps most visited because of the proximity of Scafell Pike and Bowfell meaning visitors to this part of the Southern Fells can complete two peaks on their Wainwright maps, or more, in a day.
Further information on Great End, and the Wainwright walks which take in this fell can be found in Book Four: The Southern Fells, by A. Wainwright, part of the Pictorial Guide to the Lakeland Fells.
A snowy Great End, a truly rewarding Wainwright Walk - Picture by Stewart Smith Photography