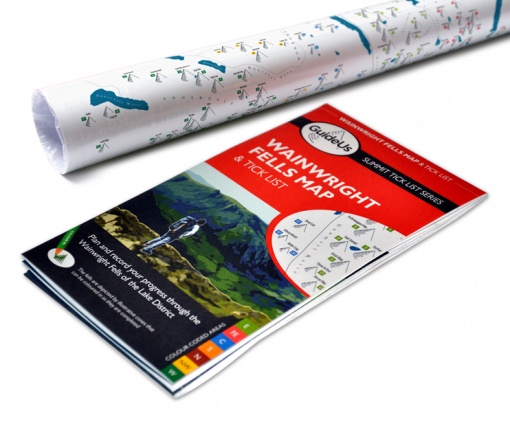 Wainwright Fells Map & Tick List
Plan and record your progress through the Wainwright Fells of the Lake District
from £9.99 + shipping
Glaramara Information
Wainwright Fell No. 44
Height: 783m (2569ft)
Glaramara is a fell in Wainwright's Southern Fells, occupying a position separating Langstrath from Grains Gill. One of the more unusually named Wainwright Fells (it beats Grey Crag by some distance), the name comes from ancient Norse language and is thought to mean 'The Mountain with the Mountain Hut by a Ravine'. The Norsemen's language is nothing it not concise if this is actually the case, presumably giving them more time for pillaging! The top of Glaramara is a long ridge with several undulating subsidiary peaks, making it a challenging and rewarding walk in its own right. However, there are also a number of options for combining Glaramara with other Wainwright Fells.
With a number of tarns, an impressive glacial hanging valley and the Doves Nest Caves around the summit of Glaramara, it is well worth a direct Glaramara walk from Borrowdale road. If wanting to complete a number of peaks from your Wainwright maps, one option would be to begin at the Borrowdale road and climb the east ridge allowing access to the Wainwright hill Rosthwaite Fell before reaching Glaramara. Other walks often combine Allen Crags, and from there press on to Green Gable and Great Gable.
As Glaramara's position is relatively isolated in Lake District terms, the views offered at the high points of a Glaramara walk are very impressive, particularly looking down Borrowdale to the Skiddaw Group, while the Helvellyn range is also seen very well.
Further reading on Glaramara walks and others in the area can be found in Book Four, The Southern Fells of Alfred Wainwright's Pictorial Guide to the Lakeland Fells.