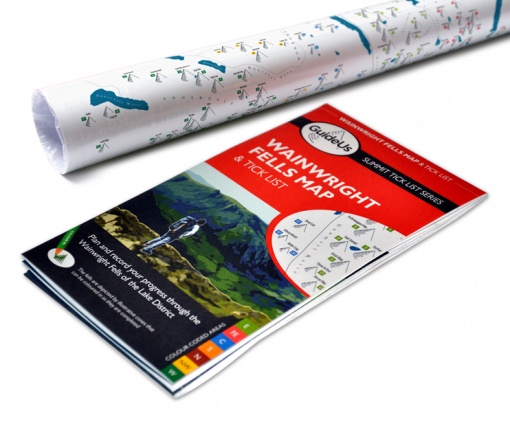 Wainwright Fells Map & Tick List
Plan and record your progress through the Wainwright Fells of the Lake District
from £9.99 + shipping
Kirk Fell is situated at the head of Wasdale, between the larger mountains of Pillar and Great Gable, but sufficiently separate from both to present an impressive, looming presence at the head of the valley. It is one of Alfred Wainwright's Western Fells and a direct Kirk Fell walk is usually made via the Black Sail Pass or Beck Head, which flank the mountain. An alternative route described by Wainwright climbs Kirk Fell's steep slopes from Wasdale Head, such a steep climb that the famous author, writer and illustrator described completing most of it on all fours clutching onto the grass.
Like many mountains in the area, after completing a Kirk Fell walk to the summit, hikers will find that Pillar dominates some of the available vista, as does Green Gable. However, the distance is far enough from Kirk Fell to give excellent views of both of these Wainwright's, their crags and screes and impressive height. The Scafells look very fine as does the view down Wasdale, while on clearer days, more distant Wainwright Fells like Fairfield, Blencathra and Helvellyn can be spotted. On very clear days you may be able to spot Snowdonia and the Isle of Man, and if carrying a mobile phone, don't be surprised to get a message welcoming you to the Isle of Man. A look at the map in a panic is not necessary, it seems to be just a quirk - and you can be assured that it is not possible to stray so far from your intended destination of Kirk Fell without getting very wet in the Irish Sea.
Kirk Fell is sometimes included in an extended Mosedale Horseshoe walk, as well as being commonly climbed together with Great Gable. One method of doing the latter is an extension of the Great Gable walk that Wainwright so favoured. This begins at the Honister Pass and and climbs the Wainwright fells of Grey Knotts and Brandreth before pressing on to Green Gable and Great Gable. At this point, rather than returning to the starting point, keen Wainwright baggers can press on to Kirk Fell, returning to the Pass via Moses Trod. In this way five peaks can be completed from your Wainwright maps in one impressive day's walk.
Further information about Kirk Fell walk, the Mosedale Horseshoe and Wainwright's Great Gable walk can be found in Book Seven: The Western Fells, by A. Wainwright, a volume of the Pictorial Guide to the Lakeland Fells
Kirk Fell and Mosedale from Dore Head - Photograph by Stewart Smith Photography