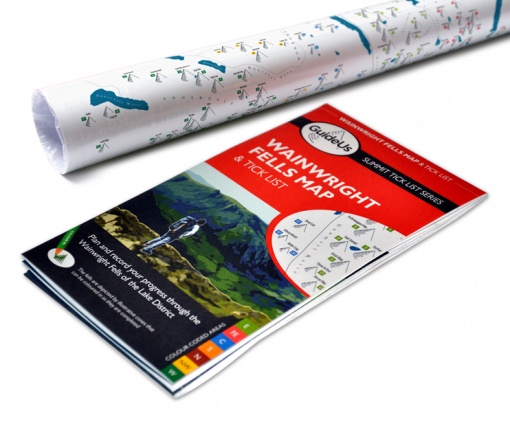 Wainwright Fells Map & Tick List
Plan and record your progress through the Wainwright Fells of the Lake District
from £9.99 + shipping
The Wainwright fell Yewbarrow occupies a relatively isolated position near the northern shores of Wastwater, surrounded by the larger Pillar, Great Gable and Scafell ranges and giving excellent views of all three. It is not amongst the largest of the Wainwright hills, but offers fantastic views of the larger peaks around, as well across the picturesque yet often brooding Wastwater to the South West. It has two tops at the north and south, with the latter recognised as the summit in Wainwright's guides. A number of rocky outcrops, crags and screes give the opportunity for some good scrambling if taking a Wainwright walk to the top.
Yewbarrow, despite its modest size, is not the easiest of fells to tick off your Wainwright Fells Map because of the rocky nature of the main ascent routes. Wainwright walks to the Yewbarrow summit are often started from Wasdale Head, something of a crossroads for walks throughout this part of Lakeland. From here, the two main alternatives involve an ascent via Dore Head and Stirrup Crag, or by a gully through the rocks called Great Door. A popular route that ticks of a number of peaks from your Wainwright maps is the Mosedale Horseshoe, a circular route beginning on the banks of Wastwater. This Wainwright walk also includes Pillar, Steeple, Scoat Fell and Red Pike and will provide a rewarding day's hiking, particular given the challenging sections around Pillar Rock and the scramble onto Yewbarrow.
Yewbarrow is a particularly fine Wainwright walk for taking in views of the surrounding fells, with the much larger fell groups around providing a breathtaking panorama. Kirk Fell and Great Gable are particularly dominant and impressive, while to the Southeast the Scafells loom into view. Nearly encircled by larger fells, Yewbarrow provides an excellent viewpoint to take in other Wainwright fells across Mosedale and Wasdale.
Greater detail on Yewbarrow is found in Book Seven: The Western Fells, by Alfred Wainwright, a volume of the Pictorial Guide to the Lakeland Fells.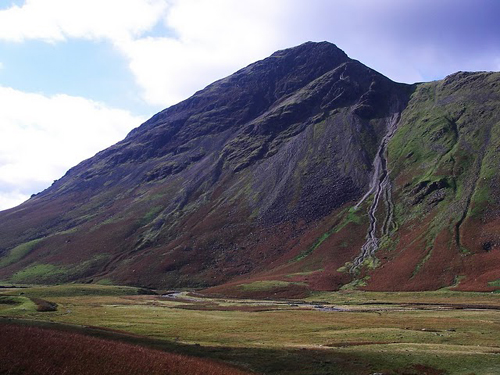 The challenging Wainwright Walk to Yewbarrow offers plenty of opportunity for scrambling. Photograph by Ammonyte.