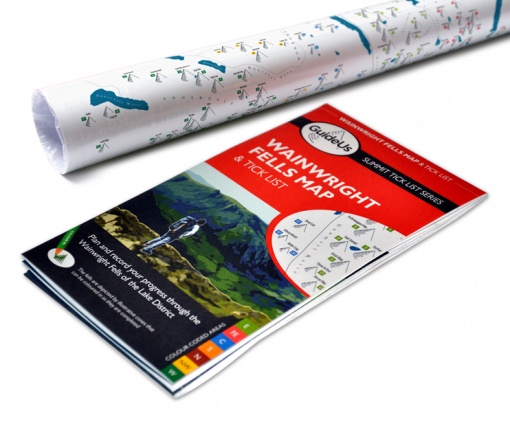 Wainwright Fells Map & Tick List
Plan and record your progress through the Wainwright Fells of the Lake District
from £9.99 + shipping
Red Pike (Wasdale) Information
Red Pike is one of the Wainwright's that feature on one of his favourite walks, The Mosedale Horseshoe. It is one of the famous writer, author and illustrator's Western Fells and looks over Wasdale and Mosedale. It is important not to confuse this Red Pike with another Red Pike at Buttermere - not too far away (about 3 miles). But for Pillar standing in the way, you'd be able to stand on one Red Pike and look directly at the other, adding to the confusion. Red Pike forms an impressive wall of crags over Mosedale, with the summit cairn positioned on the brink of these crags, making Red Pike walks particularly dramatic.
To walk Red Pike directly, a number of alternatives present themselves, with that from Wasdale Head being the most difficult given that it involves a long scramble up scree covered slopes. An easier option is to begin at Over beck Bridge, via Low Tarn. The Wasdale Head route is often the start of the Mosedale Horseshoe walk, though Wainwright preferred to carry out the circular route in the opposite direction, coming down the screes rather than scrambling up.
Beginning at Wasdale Head and following the Wainwright walk, the path follows Gatherstone Beck to Black Sail Pass, then taking the ridge to the summit of Pillar, a formidable mountain much admired by Wordsworth. After crossing a depression appropriately called Wind Gap, an optional loop that takes in the summit of Steeple can be taken, or walkers feeling the pace can press on to Scoat Fell and then Red Pike, before returning down to the valley below. This is a dramatic way to tick four peak off a Wainwright Hill Chart, with the bleak Mosedale surrounded by the rocky fells, with plenty of steep craggy ascents and scree lined descents to negotiate - but all the more worthwhile for it.
Further information about Red Pike walks and the Mosedale Round can be read about in Book Seven: The Western Fells, by A. Wainwright, a volume of the Pictorial Guide to the Lakeland Fells