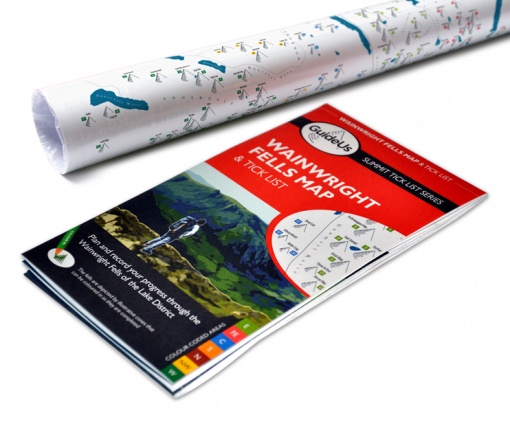 Wainwright Fells Map & Tick List
Plan and record your progress through the Wainwright Fells of the Lake District
from £9.99 + shipping
Red Pike (Buttermere) Information
Red Pike is one of the Western Fells in Wainwright's Lake District guides, one of two Wainwright fells of the same name. This is the smaller version, not to be confused with the other Red Pike 3 miles south in Mosedale. Neither Red Pike is particularly red, with green and grey more prominent colours, yet no campaign to rename one of the fells Grey Pike or Green Pike has yet gathered enough support to force changes that would seriously benefit map readers in the Lake District. Due to minerals present in the soil around the Buttermere Red Pike, it would probably have a better claim as the redder of the Red Pikes should a renaming ever come about. The fell is part of the High Stile range which separates Ennerdale from Buttermere, and gives excellent views of a number of lakes, Ennerdale Water, Buttermere, Crummock Water, Loweswater and Derwent Water.
Direct Red Pike walks are probably less common than routes that cover the three interconnected tops of the High Stile range, High Stile, Red Pike and High Crag, but they can be carried out from Buttermere or from Ennerdale via Gillflinter Beck. The three peaks mentioned are usually attempted in a circular route from Buttermere, but a longer walk traversing the whole High Stile ridge, and adding Great Borne, Starling Dodd, Haystacks and Fleetwith Pike is also an option for those wanting as many tops ticked off their Wainwright maps as possible.
There are great views from Red Pike, not just from the number of Lakes in view. Grasmoor and the Coledale fells look excellent, as does Pillar to the south. Red Pike's summit also looks particularly prominent and impressive, particularly when climbing it on routes that pass Bleaberry Tarn. When climbing Red Pike from Buttermere, Wainwright recommends the slightly longer route that passes the picturesque Scale Force waterfall.
Further information about Red Pike walks and the High Stile range can be found in Book Seven: The Western Fells, by A. Wainwright, a volume of the Pictorial Guide to the Lakeland Fells
Red Pike (Buttermere) and Crummock Water from High Stile - Photograph by Stewart Smith Photography