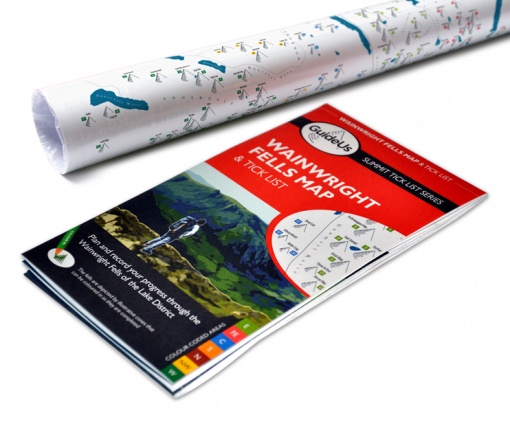 Wainwright Fells Map & Tick List
Plan and record your progress through the Wainwright Fells of the Lake District
from £9.99 + shipping
Dollywagon Pike Information
The first question that comes up with Dollywagon Pike is how to spell the name, with 'Dollywagon Pike' and 'Dollywaggon Pike' both used in different scale maps produced by the Ordnance Survey. While Dollywaggon Pike was the name used by Wainwright in his guides, today's usage is more commonly the version with a single 'g'. That question left sufficiently unanswered, we move on to what Dollywaggon Pike has to offer for Wainwright walkers. Located in Wainwright's Eastern Fells, it forms part of the Helvellyn Range and is the 18th largest of the 214 fells listed in the famous author's Pictorial Guide to the Lakeland Fells. From the summit there are excellent views of other peaks in the Helvellyn group, and particularly down Grisedale to St Sunday Crag, Place Fell and Ullswater.
The most direct routes to walk Dollywagon Pike make the ascent from Thirlmere, climbing the western slopes, while longer routes exist from Grasmere or via The Tongue. Given the number of peaks closeby however, Dollywaggon Pike walks are commonly combined with other Wainwright fells, enabling hikers to complete a number of fells from their Wainwright maps. The choice and combination of the Wainwrights to choose from is extensive, but a good option is a circular route from Wythburn. This begins with Helvellyn, before climbing Nethermost Pike before completing Dollywagon Pike and Seat Sandal.
Further detail on possible Dollywagon Pike walks and the fells in the Helvellyn range can be read about in Book One, The Eastern Fells, by Alfred Wainwright, a volume of the Pictorial Guide to the Lakeland Fells.