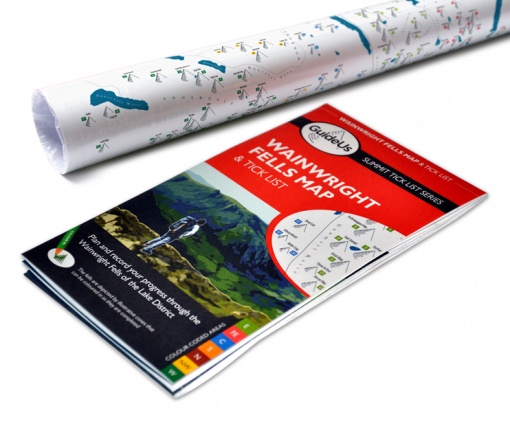 Wainwright Fells Map & Tick List
Plan and record your progress through the Wainwright Fells of the Lake District
from £9.99 + shipping
Great Dodd is the highest of The Dodds, a group of mountains to the north of the Helvellyn range in Wainwright's Eastern Fells. Included in the top twenty Wainwright Fells in terms of height, it is rounded, smooth looking fell in shape, with a rolling, grassy summit. From the top of Great Dodd the views are superb, with the Helvellyn range to the south and Blencathra to the north particularly fine sights, as is the westward view and the Coledale Fells. On clear days another highlight of the all round panorama from Great Dodd is the glimmering waters of the Solway Firth that separates Cumbria from Dumfries and Galloway in Scotland.
Many Wainwright walkers taking a Great Dodd directly do some from Dockray, although a number of other routes are possible including from Legburthwaite near St John's in the Vale. In addition, it is possible to climb all of The Dodds with a day of very pleasant walking, with a circular route taken from High Row. From here the first Wainwright to tick off a Wainwright map is Hart Side, after which the route continues to Stybarrow Dodd, Watson's Dodd, Great Dodd and finally Clough Head, the northernmost mountain listed as a Wainwright in the Helvellyn ridge.
Further detail on walking the Dodds and the fells in the Helvellyn range can be read about in Book One, The Eastern Fells, by Alfred Wainwright, a volume of the Pictorial Guide to the Lakeland Fells.