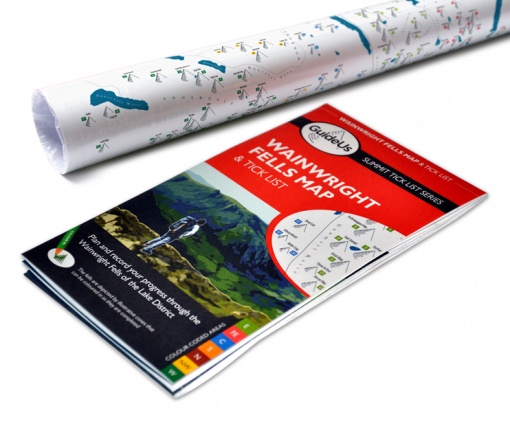 Wainwright Fells Map & Tick List
Plan and record your progress through the Wainwright Fells of the Lake District
from £9.99 + shipping
Dove Crag, the 38th highest fell in the Lake District was perhaps an unusual choice for Alfred Wainwright to choose as the first mountain covered in his famous Pictorial Guide to the Lakeland Fells. While not particularly well known, the word 'crag' in its title is well deserved as the fell is topped with an impressive rocky series of crags, many of which are used for rock climbing. The best view of the crag comes when making a direct Dove Crag walk from Dovedale, with these rocky walls forming an impressive looming presence at the valley head.
Dove Crag's top is most commonly climbed as part of the Fairfield Horseshoe walk, and less commonly as part of a circuit of the fells that surround the valley in a Dovedale Round. It is also possible to walk to Dove Crag from Ambleside, a route that Wainwright took when setting off to make notes and illustrations for his first guidebook chapter in 1952. If taking this route, it is worthwhile ticking another two fell tops from your Wainwright maps, starting with Low Pike and then High Pike before reaching Dove Crag, and then returning down Scandale to the starting point.
The westerly panorama at the fell summit gives fine views across to the Langdale Pikes, while to the east, there is a good feel for the High Street range in Wainwright's Far Eastern Fells. But perhaps the best view gained on a Dove Crag walk is the crag itself, particularly when travelling up Dovedale.
Further detail on Dove Crag and Wainwright fells in the Dovedale Horseshoe and Fairfield Round can be read about in Book One, The Eastern Fells, by Alfred Wainwright, a volume of the Pictorial Guide to the Lakeland Fells.