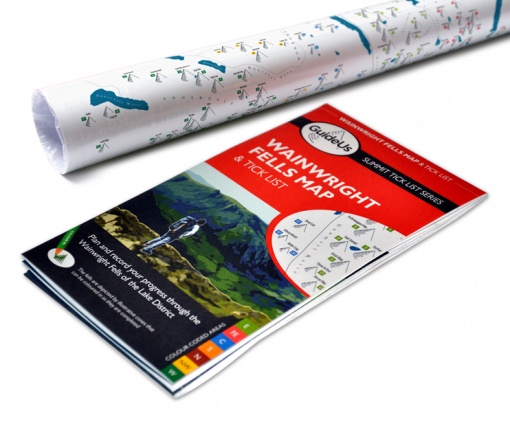 Wainwright Fells Map & Tick List
Plan and record your progress through the Wainwright Fells of the Lake District
from £9.99 + shipping
Fairfield is a Wainwright Fell located south of the Helvellyn range, part of Alfred Wainwright's Eastern Fells. This mountain is one of the more sizeable in the Lake District, and forms an impressive sight at the head of the Deepdale, a particularly impressive valley that lives up to its name. Fairfield walks are particularly rewarding because of the views from the summit, which include the Helvellyn range and Windermere to the south. On fine days the view stretches as far as Ingleborough in the Yorkshire Dales and the sands of Morecambe Bay.
The most common direct Fairfield walk begins at Grasmere, reaching the top via Grisedale Hause, while a number of options exist to complete numerous peaks from a Wainwright fell map in one day. Perhaps the most complete of these is the Fairfield horseshoe, a circular route from Rydal which ticks off a number of the Wainwrights, with Fairfield being the highest point on the hike. The eight Wainwrights on this route are Nab Scar, Heron Pike, Great Rigg and Fairfield, with the path back down to Grasmere going by way of Hart Crag, Dove Crag and the imaginatively named High Pike and Low Pike.
Another fantastic circular walk exists from Patterdale, taking in the fells that surround the desolate Deepdale, including Birks, St Sunday Crag, Cofa Pike, Fairfield, Hart Crag and Hartsop Above How, with the latter the best place for views of Bortherswater.
Further detail on these Wainwright walks and the fells in the Fairfield range can be read about in Book One, The Eastern Fells, by Alfred Wainwright, a volume of the Pictorial Guide to the Lakeland Fells.
Fairfield with snow and Great Rigg - Photograph by Stewart Smith Photography