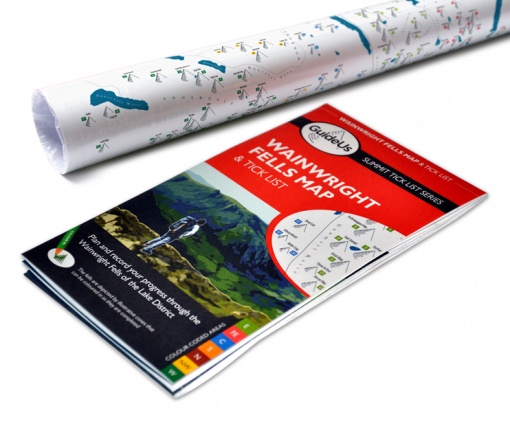 Wainwright Fells Map & Tick List
Plan and record your progress through the Wainwright Fells of the Lake District
from £9.99 + shipping
St. Sunday Crag Information
The recognisable and rounded peak of St Sunday Crag is a Wainwright fell that dominates the skyline in the popular Lake District tourist area of Patterdale. This makes it a popular climb with the many visitors who use Patterdale as a base to explore the beautiful countryside of the Lake District and the Wainwright walks that have captured the imagination of walkers for many years. And, with St Sunday Crag forming part of Alfred Wainwright's Coast to Coast walk, more hikers than ever are taking in the spectacular views that inspired the famous walker, writer and illustrator.
Most ascents to the top of St Sunday Crag start in Patterdale, although trips via Grisedale Tarn from the East also make it accessible from Grasmere. The Patterdale routes of this Wainwright walk also take in a climb up another fell on your Wainwright maps, the summit of Birks. Those looking to climb as many of the Wainwright Fells as possible can easily complete the trip to Arnison Crag as well, giving the walk even more spectacular views of Ullswater, undeniably one of the most beautiful lakes in the Lake District (if not the most beautiful of all, as asserted by many).
With fine views of Ullswater and Helvellyn, and access from the popular Patterdale, St Sunday Crag is rightly considered one of the best Wainwright Walks, with its surprisingly green summit offering spectacular views, fine walking and the opportunity to complete several of the fells on your Wainwright maps at once.
Further information about St Sunday Crag and the walks that take in its summit can be found in Book One: The Eastern fells by Alfred Wainwright, part of the Pictorial Guide to the Lakeland Fells.
The distinctive summit of St Sunday Crag, a great reward for any Wainwright bagger - Picture by Stewart Smith Photography