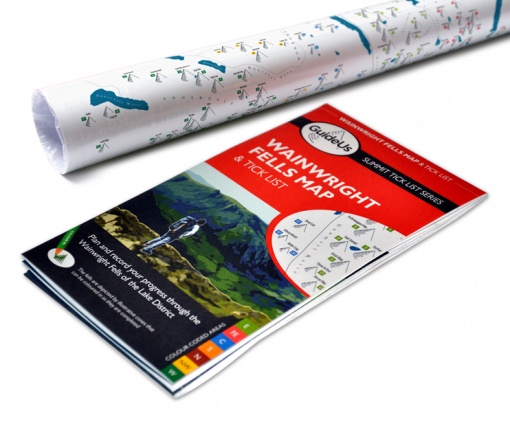 Wainwright Fells Map & Tick List
Plan and record your progress through the Wainwright Fells of the Lake District
from £9.99 + shipping
Helvellyn is the third highest mountain in the Lake District and England, forming the apex of Wainwright's Eastern Fells. Situated between Thirlmere and Patterdale, Helvellyn can be climbed from starting positions on the shores of Thirlmere or Ullswater, making it very popular with Wainwright Walkers. The eastern side of the fell is characterised by two famously steep and dramatic ridges which are used to reach the top, Striding Edge and Swirral Edge. These challenging approaches make Helvellyn one of the more difficult but rewarding fells to complete on your Wainwright map.
A. Wainwright was not the first famous visitor to Helvellyn, which was a popular trip for the poet William Wordsworth - inspiring him to write about the mountain several times. With the stunning views available from the plateau at Helvellyn's summit, and the dramatic ridges that lead to it, it is not difficult to see where that poetic inspiration came from, or why Helvellyn is such a popular Wainwright walk.
Nestled high up in between the encircling Swirral Edge and Striding edge lies Red Tarn, which takes its name from the red screes around it. This is a popular site for Wainwright Walkers to set up camp, either just to take advantage of a flask and a sandwich, or overnight with a tent. When reaching the plateau at the top of Helvellyn, walkers following the routes described in Wainwright's guides will be treated to views of the Scafells, Skiddaw, the Coniston Fells and the ridge of the Eastern fells which takes in other Wainwright walks like Dollywaggon Pike. Early risers and committed walkers could even consider walking the ridge of Eastern Fells and completing Helvellyn, Nethermost Pike and Dollywaggon Pike on their Wainwright maps in a single day, although that would certainly be a challenge!
More information on the walks that visit Helvellyn can be found in Book One: The Eastern Fells by Alfred Wainwright, part of the Pictorial Guide to the Lakeland Fells.
The shelter at the top of Helvellyn, a welcome sight for many a Wainwright walker - Picture by Stewart Smith Photography
The spectacular Helvellyn range in all its glory - Picture by Stewart Smith Photography